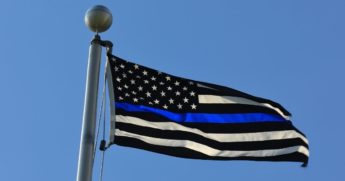 The University of Wisconsin-Madison's police chief banned the use of "thin blue line" imagery while officers are acting in an official capacity.
The flag that has been seen as a symbol of support for police officers has also been criticized as a symbol of white supremacy and was seen during the incursion of the Capitol on Jan. 6.
Police Chief Kristen Roman wrote in a Jan. 15 email to UW-Madison Police staff that the flag had been "co-opted" by extremists with "hateful ideologies" and asked for her department to distance itself from the flag in order to rebuild trust in the community, the Wisconsin State Journal reported.
https://www.westernjournal.com/police-chief-bans-display-thin-blue-line-flag/