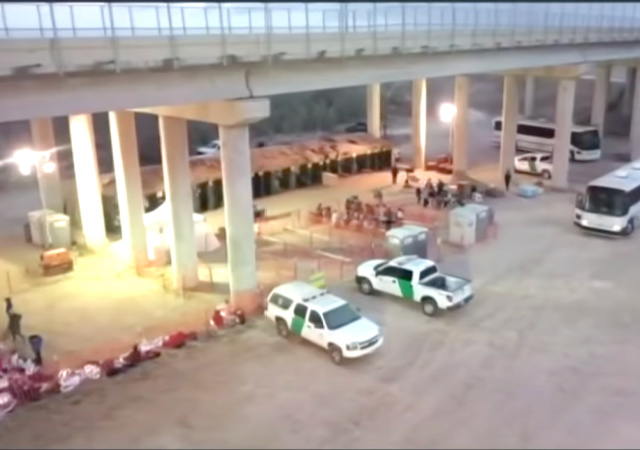 Following reports that there are more than 13,000 unaccompanied minors in U.S. custody and that steady streams of people illegally crossing the border continue to add to an already massive processing backlog for ICE, U.S. Customs and Border Protection has asked for air support to move people to states along the Canadian border, according to the Washington Post.
Adding to the existing 1000 people waiting to be processed, another group of 1000 illegal immigrants crossed the southern border in just hours on Friday. Though the Biden administration declines to call the surge of illegal crossings and dangerous overcrowding at detention facilities a "crisis," the situation has grown beyond what CBP along the U.S. – Mexico border can handle.
The air transport plan is the latest measure in the Biden administration's scramble to contend with a widening emergency that officials say they do not view as a "crisis" but a "stressful challenge.
The extraordinary volume of unauthorized border crossings in recent days has left the families and minors waiting hours outdoors, many under a bridge next to the river where CBP is operating a large outdoor processing station.
Texas Governor Abbott also issued a statement Friday about the Biden administration's "abject failure when it comes to ensuring the safety of unaccompanied minors who cross our border."
Statement on inhumane conditions at unaccompanied minor facilities: https://t.co/6xifG8jU18 pic.twitter.com/sI2Sm4wM4p
— Gov. Greg Abbott (@GovAbbott) March 19, 2021
News that the border crisis will extend its reach as far as our northern border comes just days after Biden has agreed to send COVID vaccines to both Mexico and Canada, with the caveat that the gesture has nothing to do with the current surge of illegal immigrants into the U.S. from Mexico, and just a day after Canadian Prime Minister Justin Trudeau extended travel restrictions between the U.S. and Canada.
Update on our border: Non-essential travel restrictions between Canada and the US have been extended by another 30 days – until April 21st. We'll continue to do whatever is necessary to keep you and your loved ones safe.
— Justin Trudeau (@JustinTrudeau) March 18, 2021
https://legalinsurrection.com/2021/03/wapo-biden-admin-planning-to-fly-migrants-from-mexican-border-to-northern-states/