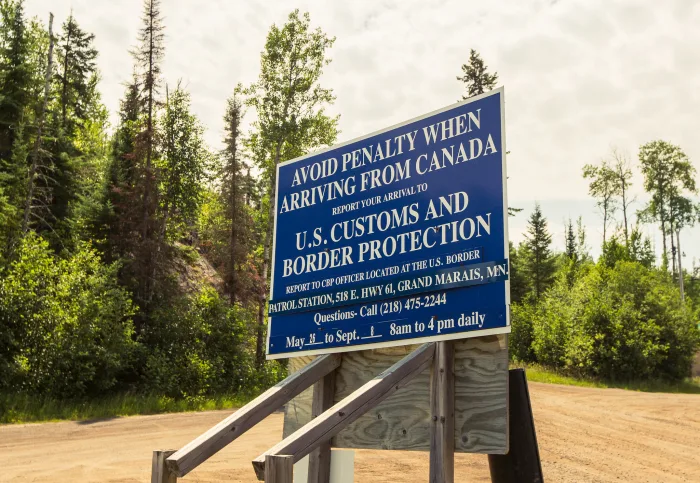 The CDC has issued its highest travel alert level for Canada.
Travel to Canada from the United States is being discouraged by the Centers for Disease Control & Prevention, saying that even those who are fully vaccinated could be infected and spread COVID-19 variants.
The CDC rates COVID-19 travel advisories from Level 1 (low) to Level 4 (very high), and it has labeled Canada a Level 4 danger zone. The highest level warrants the following advice from the CDC:
Travelers should avoid all travel to Canada.
Because of the current situation in Canada even fully vaccinated travelers may be at risk for getting and spreading COVID-19 variants and should avoid all travel to Canada.
If you must travel to Canada, get fully vaccinated before travel. All travelers should wear a mask, stay 6 feet from others, avoid crowds, and wash their hands.
The warning from the CDC comes just after U.S. Reps. Michelle Fischbach and Pete Stauber, both Minnesota Republicans, have encouraged the reopening of the Canadian border due to the impact the closure has had on the Minnesota. economy.
Canada closed its border to the U.S. to nonessential travelers in March 2020. More recently, emergency regulations were issued to mandate that anyone entering the country must quarantine for 14 days (some exceptions), provide contact information and monitor themselves for symptoms of COVID-19.
The ban on most nonessential travel to Canada from the U.S. is in place until April 21, though it could be extended.
The Minnesota-Canada border restrictions are more difficult for people living on the Northwest Angle – the northernmost point of the contiguous United States that's home to about 120 year-round residents and a dozen resorts. It is only accessible by land only via a 40-mile drive through Manitoba, Canada, and two international border crossings.
Over the winter, residents of the Angle constructed a 30-mile ice road on Lake of the Woods to get in and out, but now that spring has arrived the ice road no longer exists, it's effectively stranded residents until restrictions are lifted.
How bad is COVID-19 in Canada?
Like America, it varies depending on where outbreaks are happening. According to CBC News, Ontario is expected to go into a four-week shutdown beginning Thursday that will see all non-essential businesses ordered closed.
Medical officials from Toronto and Ottawa have urged province leaders to issue a stay-at-home order, while schools in the Toronto area have moved to distance learning.
Ontario borders the U.S. from Minnesota, east across the Great Lakes to the Ohio Valley. The other Canadian province to border Minnesota is Manitoba, where health officials are worried about a variant-driven third wave being fueled by gatherings from Easter weekend.
Meanwhile, a variant-driven spike is also occurring in Canada's westernmost province, British Columbia, where the B.1.1.7 and P.1 variants are leading to rising case level. Both variants are more contagious and capable of causing more severe illness.
B.1.1.7 is now the dominant strain in Minnesota, which was also the first state in the U.S. to use genomic sequencing to confirm a case of P.1. As of last week, the state health department had confirmed only three cases of P.1 in Minnesota.
What is essential travel to Canada?
The following qualifies as essential travel, per Canada's order:
Work related travel. A cross-border worker must cross the border regularly to go to their normal place of employment and demonstrate a regular pattern of travel, which is generally defined as daily or weekly.
Trade and Commerce including truck drivers
Medical purposes such as shopping for essential goods such as medication or goods necessary to preserve the health and safety of an individual or family
Emergency response and public health purposes
Cross-border trade
Individuals engaged in military-related travel or operations
Alaskans may travel through Canada to return to their home in Alaska. They should be ready to make a convincing case so bring supporting documentation such as passport, Alaska driver's license, utility bills etc. They are also asked to limit stops along the way.
https://bringmethenews.com/minnesota-news/cdc-do-not-travel-to-canada-even-if-you-are-vaccinated