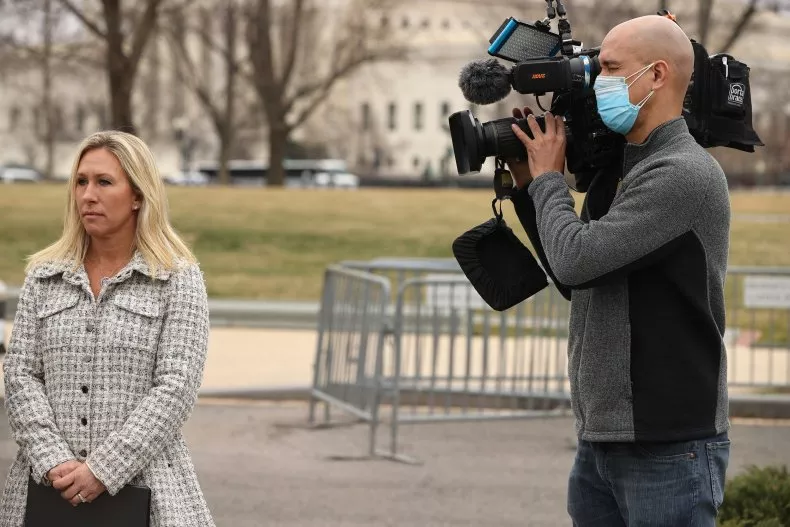 Rep. Marjorie Taylor Greene has announced that she will soon introduce a resolution to expel Democratic California Rep. Maxine Waters from Congress.
On Sunday afternoon, Greene tweeted, "Very soon I'll be introducing a resolution to expel @RepMaxineWaters from Congress for her continual incitement of violence on innocent American people."
"Rep Waters is a danger to our society," she added.
In a statement emailed to Newsweek, Greene's office said she announced plans to expel Waters "after the California Congresswoman invited Black Live [sic] Matter domestic terrorists to fire gun shots at National Guardsmen in Minnesota."
"As a sitting United States Congresswoman, Rep. Maxine Waters threatened a jury demanding a guilty verdict and threatened violence if Chauvin is found not guilty. This is also an abuse of power," Greene added.
Greene's remarks on Sunday came hours after Waters joined hundreds of Black Lives Matter protesters around the 11 p.m. curfew on Saturday night to demonstrate outside the police department in the city of Brooklyn Center, Minnesota.
The crowds were gathered for a seventh night of protests, after the police killing of Daunte Wright, to rally against police brutality and systemic racism. They repeatedly called for heavy charges against Kimberly Potter, the officer involved in the shooting.
Waters spoke to the crowd, telling them that she backed murder charges against Potter and advised the city against settling for manslaughter charges.
Nearby in Minneapolis, Derek Chauvin's murder trial has disrupted the city. Protesters across America have called for a guilty verdict to be passed onto the police officer accused of killing George Floyd.
Asked about the Chauvin trial by reporters, Waters said that she was "hopeful" the cop would be convicted.
https://www.newsweek.com/marjorie-taylor-greene-introducing-resolution-expel-rep-maxine-waters-congress-1584532