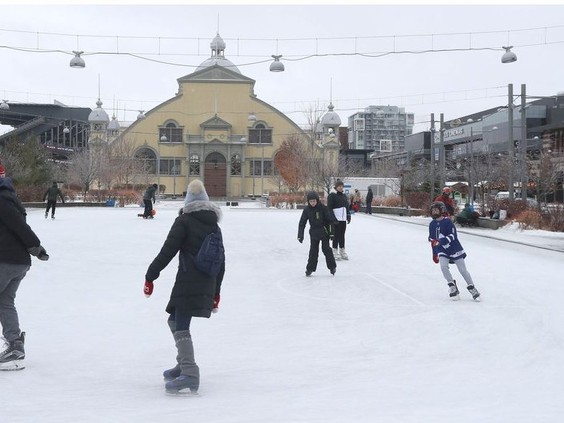 Families who ventured out on Boxing Day appeared to be following the new rules and capacity limits, begrudgingly in some cases, after new restrictions on outdoor rinks, trails and sledding hills came into effect at midnight with daily COVID-19 cases surging.
"It is what it is," said Matthew Wills as he laced up his skates with his kids at City Hall's Rink of Dreams on Sunday morning. "It's a little disappointing to be in masks outside on a day like this, but we're making the best of it."
New capacity restrictions and outdoor masking rules came into effect at midnight, with a maximum 25 people on outdoor skating rinks (unless otherwise posted) and at congregation points on area trails and sledding hills.
Physical distancing must be maintained at all times, and for smaller rinks, the maximum is set at the number of skates that can maintain a two-metre distance.
Maximum capacities are posted at city-operated rinks at the City Hall Rink of Dreams, Jim Tubman Chevrolet Rink of Dreams, Lansdowne Park Skating Court and Ben Franklin Place Skating Rink, and indoor changing rooms and clubhouses, excluding bathrooms, are to remain closed to the public.
Capacity limits, masking rules and physical distancing restrictions also apply to other outdoor amenities, including areas where people congregate on sledding hills and ski trails.
https://ottawacitizen.com/news/quiet-day-on-outdoor-rinks-trails-and-sledding-hills-as-new-restrictions-take-effect