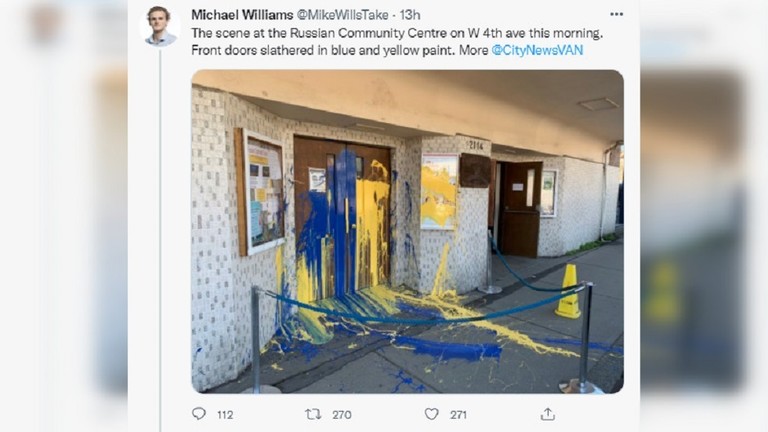 The Russian Community Centre in Vancouver, Canada was vandalized by pro-Ukraine activists on Saturday, leaving locals in tears.
Vandals threw blue and yellow paint – the colors of the Ukrainian flag – at the door of the community center on W 4th Ave, Saturday, forcing the building to be cordoned off as efforts were made to clean up the damage.
The attack reportedly took place before a group of around 100 children were set to attend the center for Saturday school.
Ariadna McKenna, the president of the center, told local news that she was left "choking back tears" upon seeing the vandalism, while Ukrainian-born board member Natasha Kovalchuk said she was "shaken" by the incident.
"You know what the funny thing is? I'm Ukrainian. My family is right now there in Ukraine. I'm trying to get the kids now close to the border," Kovalchuk said, adding, "In Canada, we didn't think this will happen."
Kovalchuk pointed out that the Russian community in Canada "didn't start" the conflict in Ukraine and urged Canadians to remember that the Russian diaspora are "people here too."
Natasha Lozovsky-Burns, the vice president of the center, which was founded by Russian immigrants in 1956, claimed around 80% of the center's members are Ukrainian.
Vancouver Police are investigating the incident.
It wasn't the first anti-Russian hate crime to take place in Canada this week.
https://www.rt.com/russia/551340-russian-community-center-attacked-canada/?utm_source=rss&utm_medium=rss&utm_campaign=RSS