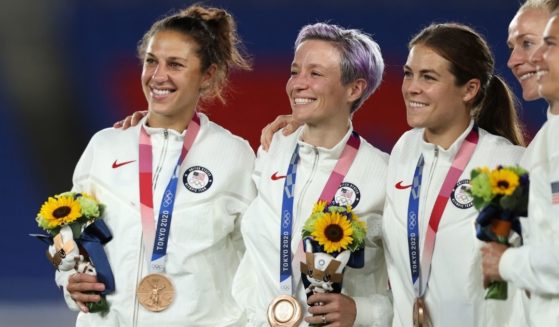 If you're the kind of player who doesn't like kneeling for social justice, the U.S. Women's National Soccer Team was apparently a poisonous place to be.
So says Carli Lloyd, the American women's soccer star who made news for not taking a knee during last summer's Olympics in Tokyo.
Lloyd, who retired in 2021, blasted the culture of the soccer team during a recent interview on a podcast hosted by former teammate Hope Solo.
The culture she described was hardly a surprise, given what we've seen from the USWNT — particularly star Megan Rapinoe, who has been the poster child for woke culture. Here at The Western Journal, we've been covering the wokeness on the national soccer team for quite some time now — and we'll continue calling out wokeness in culture wherever we see it. You can help us by subscribing.
According to a Tuesday report in the New York Post, Lloyd fired shots at the culture of the national team during her appearance on the SiriusXM podcast "Hope Solo Speaks."
"Even within our squad, the culture has changed," she said.
"It was really tough and challenging to be playing these last seven years. To be quite honest, I hated it."
Lloyd, 39, said her teammates made her loathe playing.
"It wasn't fun going in. It was only for love of the game, really, for me. I wanted to win and I wanted to help the team, but the culture within the team was the worst I've ever seen it," she said.
"I'm hoping that the future is bright and some things change."
Solo, a former goalie for the national team who has had a close friendship with Lloyd going back 15 years, said it was "really sad" but understood what she was going through.
"When I got fired in 2016 … every time I left for camp my husband Jerramy [Stevens] hated to see me sad," Solo said.
"I didn't want to go to the social aspect of camp," she said. "I wanted to train my ass off. I wanted to work my butt off. I wanted to play games. But I didn't want to be around everybody and the culture of the team. It was really difficult. I don't think people understand how difficult emotionally and mentally that is.
Lloyd became better known during the 2021 Olympic run because she wouldn't fit in among the rest of the team members who took a knee for social justice — albeit not during the national anthem, because it would clash with Olympic rules.
However, even if it wasn't taking place during "The Star-Spangled Banner," the implicit message being sent was that progressive values had won and, if you didn't take the knee, you were going to be ostracized.
https://twitter.com/Outkick/status/1423374225176420352
https://twitter.com/Outkick/status/1423374225176420352
https://www.westernjournal.com/uswnt-player-breaks-silence-toxic-culture-woke-team/