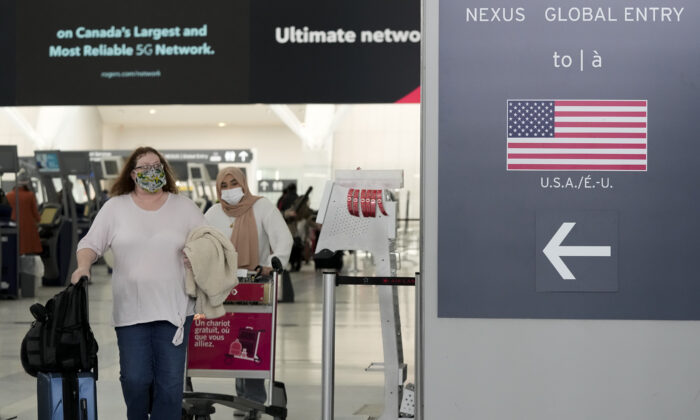 Border restrictions will be further eased on April 25, the federal government said on Friday, with the changes relating to children and fully vaccinated travellers.
The Public Health Agency Canada says that children aged 5 to 11 who are unvaccinated or partially vaccinated and who are accompanied by a fully vaccinated person will no longer require a pre-entry COVID-19 test.
Also, fully vaccinated travellers will no longer be required to submit a quarantine plan upon entry into Canada, and neither will children aged 5 to 11 accompanied by a fully vaccinated person or travellers with a COVID-19 vaccine medical exemption.
Fourteen days after arrival, fully vaccinated travellers will also no longer be required to mask in public spaces, monitor and report if they develop signs or symptoms, quarantine if another traveller in the same group develops symptoms or tests positive, or maintain a list of close contacts and locations visited.
While most of Canadian provinces and territories have lifted most if not all COVID-19 restrictions, the federal government has taken a slow and incremental approach to lifting restrictions under its purview, and so far only regarding border rules.
Larger issues, like the vaccine mandate for federally regulated modes of transportation which, combined with U.S. vaccine border rules, prevent millions of unvaccinated Canadians from leaving the country, have no end in sight so far.
Dr. Howard Njoo, Canada's deputy chief public health officer, was asked about the mandate on April 22 during a routine COVID-19 briefing and he implied that mandatory vaccination for travel is kept in place as a means to push people to get vaccinated.
"I think everyone is in agreement that vaccines are still our major tool, a major layer of protection, and so both inside Canada, for all Canadians, but also for travel purposes, I think it's important to stress the point that the higher our vaccine coverage is, the better we all are overall, in terms of protecting against serious consequences of COVID 19," he said.
https://www.theepochtimes.com/canada-softens-border-rules-again-for-the-fully-vaccinated-and-children_4421859.html?utm_source=BN_article_free&utm_campaign=breaking-2022-04-22-1-ca&utm_medium=email&est=kOg4DraOQMZYcBaBiqN6F%2BO6Nm8LMDYcmrpEh%2BFm1jKfj7IhkUcUfCtBAkU%3D