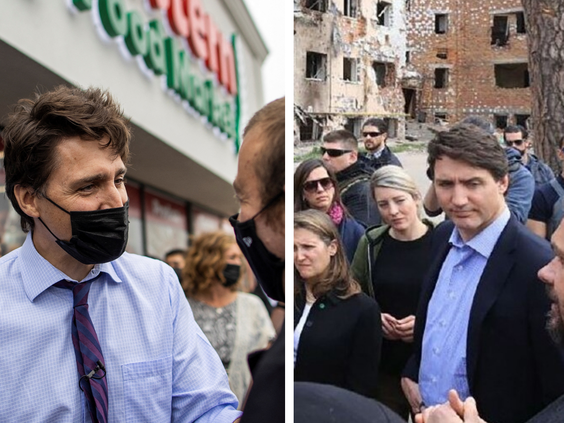 Even as his government stubbornly ignores local and national trends toward lifting mask mandates, Prime Minister Justin Trudeau is proving extremely willing to go maskless himself — provided it happens on foreign soil.
On May 8, the prime minister was in Ukraine, a country that saw only 45 per cent of its adult population fully vaccinated on the eve of the Russian invasion. There were hugs with Ukrainian President Volodymyr Zelenskyy, handshakes with Ukrainian officials and tightly packed indoor press events. In not one image can Trudeau be seen wearing a mask.
It's far from the first time that Trudeau has appeared to observe one set of masking rules for Canada, and another while abroad.
In October 2021, Trudeau was photographed at a maskless bar gathering in the Netherlands along with the country's Prime Minister Mark Rutte. Later that month, Trudeau was sporting a face mask outdoors on the grounds of Rideau Hall in advance of a cabinet swearing-in ceremony. The disparity was despite comparable case and vaccination rates between Canada and the Netherlands at the time.
In March, Trudeau was maskless while meeting and shaking hands with Queen Elizabeth II. A month later, during a trip to Kitchener, Ont. to promote his new federal budget, Trudeau could be seen wearing a mask during outdoor events.
On April 24, Trudeau posted an image to social media celebrating the birthday of his wife Sophie Grégoire Trudeau. Both of them were pictured wearing face masks while on swings together, although as a married couple who share the same household, they've presumably spent the entire pandemic in the same COVID-19 bubble.
https://vancouversun.com/news/canada/first-reading-why-does-trudeau-go-maskless-overseas-but-not-in-canada/wcm/b666bafb-3a6f-4781-8e7a-24d759837826?utm_term=Autofeed&utm_medium=Social&utm_source=Twitter#Echobox=1652446456