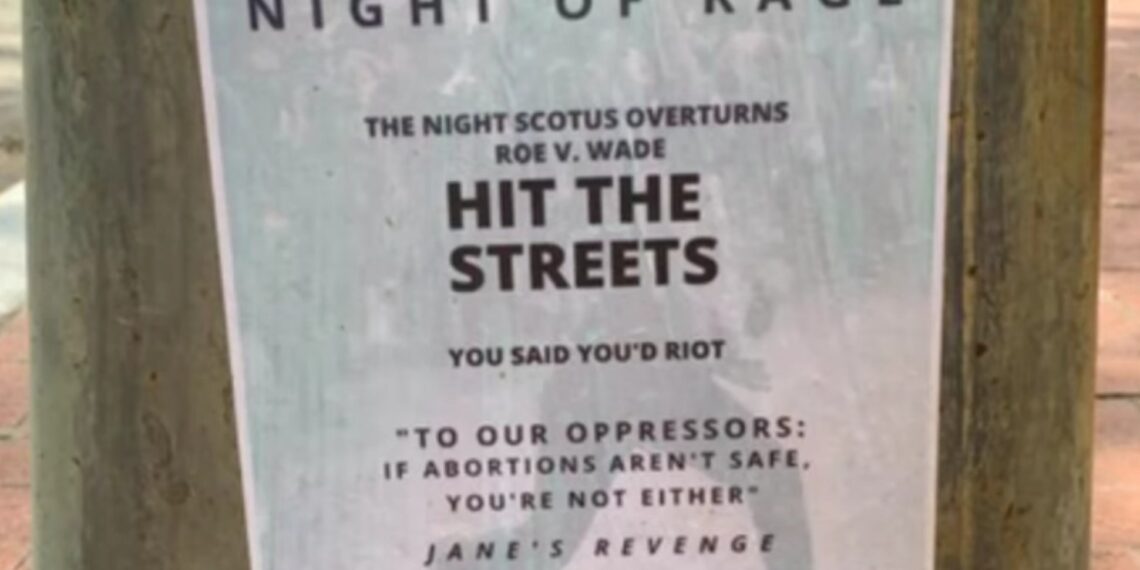 Jane's Revenge, a far-left, pro-abortion extremist group, has promised a "night of rage" if the Supreme Court opts to overturn Roe v. Wade this summer. The group has claimed responsibility for numerous attacks on pro-life group offices, pregnancy centers and the offices of elected Republicans in recent weeks.
A flyer signed with the name "Jane's Revenge" reads, "THE NIGHT SCOTUS OVERTURNS ROE V. WADE HIT THE STREETS YOU SAID YOU'D RIOT."
"TO OUR OPPRESSORS: IF ABORTIONS AREN'T SAFE, YOU'RE NOT EITHER.' JANE'S REVENGE."
Jane's Revenge has claimed responsibility for a string of firebombing attacks on pro-life groups and pregnancy centers since a draft opinion was leaked last month. The group has claimed responsibility for attacks in Wisconsin, Iowa, Washington D.C. and a number of other states and municipalizes.
The group's origins are largely unknown. It has a website, which it has used to spread its message. Jane's Revenge has also disseminated several flyers calling for "action" against pro-life organizations.
The far-left group is now calling for similar "action" in Washington D.C. and cities across the nation if the Supreme Court follows through.
"This is not a declaration of war," Jane's Revenge wrote in a statement. "War has been upon us for decades. A war which we did not want, and did not provoke. Too long we have been attacked for asking for basic medical care. Too long have we been shot, bombed, and forced into childbirth without consent."
The group's homepage outlines its goals of protecting abortion access. "This is an event that should inspire rage in millions of people who can get pregnant…and yet, the response thus far has been tepid," their website home page reads. "We have agonized over this apparent absence of indignation. Why is it that we are so afraid to unleash hell upon those who are destroying us?"
The Biden DOJ claims it is now investigating the group, though a number of elected Republicans have said this is not nearly enough.
Over 100 GOP Representatives sent a letter to the Federal Bureau of Investigation and the Department of Homeland Security demanding that members of the extremist group be deemed "domestic terrorists" following their attacks on pro-life centers, and their most recent statements.
https://nationalfile.com/far-left-group-janes-revenge-vows-night-of-rage-if-roe-v-wade-is-overturned/