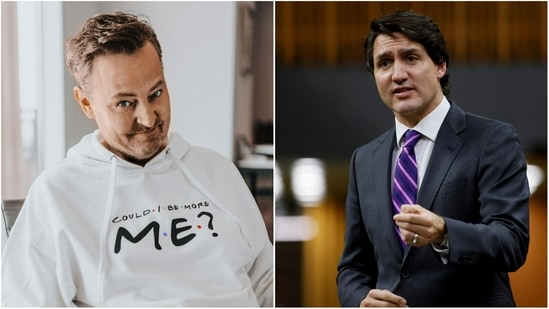 Before Matthew Perry moved to the United States and became popular for playing Chandler Bing on Friends, he used to live with his mother in Canada, where he was also a top-ranked junior tennis player in his school. During his younger years, he also beat up future Canadian Prime Minister Justin Trudeau while they were in the same school.
Matthew and Justin Trudeau both attended Rockcliffe Park Elementary, a public school in Ottawa. Interestingly, Matthew's mom Suzanne Marie Morrison also worked as a press secretary to Justin's father Pierre Trudeau while he was the Prime Minister. Matthew said it was 'pure jealousy' that led him to attack the son of the then Canadian Prime Minister who went on to become the PM himself.
In an appearance on The Tonight Show Starring Jimmy Kimmel in 2017, Matthew recalled going to the same school as Justin. He said, "I was a couple of years ahead of him. My friend Chris Murray who was also in the fifth grade in Canada reminded me we actually beat up Justin Trudeau. I don't know (why). We both beat him up. I think he was excelling in a sport that we weren't, so it was pure jealousy."
https://www.hindustantimes.com/entertainment/tv/when-friends-matthew-perry-beat-up-canadian-pm-justin-trudeau-in-school-101660872007746.html