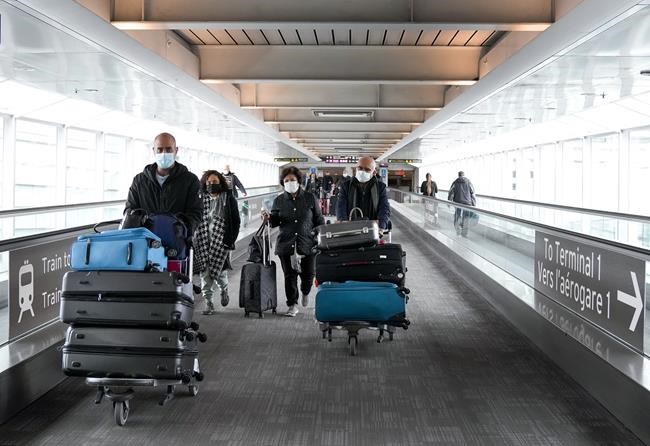 One of the reasons Ottawa confirmed it was getting rid of the restrictions at the border was because people who don't like wearing a mask are making the lives of airline staff really hard. They announced the rules were not being renewed while in the same breath saying masks are a key factor in reducing transmission of the virus and a barrier to help keep people and those around them safe.


In other words, there is a mandate in place that can continue but it's not, at the discretion of the federal government which is also telling people to keep following the rule they're getting rid of.
Hundreds of thousands of people have interacted with a tweet put out by CityNews Vancouver Reporter Sonia Aslam on Monday, highlighting the confusing messaging from Ottawa.
Some people say the federal government is not putting the public's health or safety first. Others, wondering how they're still not able to take a bottle of water through security but can sit on a plane for hours without a mask mandate during a pandemic.
Some saying enforcing rules is part of the job, like no smoking, cutting off someone's booze intake or putting their tray in the upright position when asked to do so during a flight.
A lot of people are also saying, if someone doesn't want to wear a mask, then take them off the flight. And many are simply slamming the federal government, with the word "coward" being thrown around.
Others feel the federal government has given in to bullies who, they think, are putting the lives of airline staff and other travellers at risk.
Something else that's jumped out to people is Canada's deputy chief medical health officer, who was at Monday's news conference, saying he hopes people make an "enlightened" decision about continuing to wear a mask while travelling, something Dr. Howard Njoo encourages if you're travelling, and it's crowded, or the ventilation isn't great.
UBC's Dr. Sarah Otto is a member of B.C.'s independent COVID modelling group. "I teach with a mask on. I get on the bus with a mask on. Right now, it's not the time to put our masks away because our infection rates are just so high. So, in closed, indoor environments, wear a mask."
Otto says there is another concern right now.
"Many people got vaccinated back in December of last year, and that's especially true of our elders or the other main source of immunity is from people who had infections in January and February and that's now so long ago that, that big, large fraction of the population is no longer protected from getting infected."
https://vancouver.citynews.ca/2022/09/27/canada-covid-19-travel-restrictions-social-media/