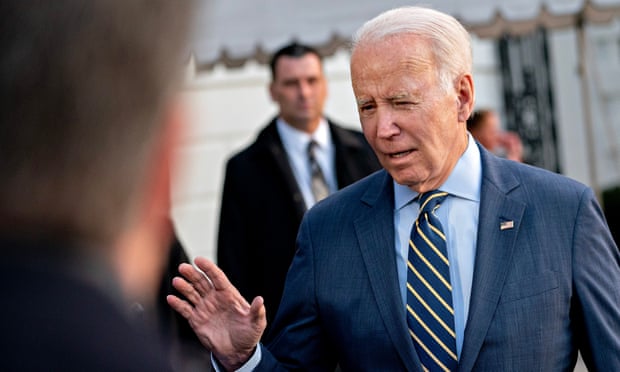 The discovery of government secrets at two locations associated with Joe Biden appears to have produced one big political winner: Donald Trump.
The White House was in rare crisis mode last week as it emerged that lawyers for Biden had found classified material at his thinktank in Washington DC and home in Delaware. At an unusually contentious press briefing, one TV correspondent dubbed the affair "garage-gate".
The justice department appointed a special counsel to investigate Biden's handling of classified documents from his time as vice-president. It was a rare setback for an administration that promised to be transparent and scandal-free. It also complicated an investigation into Trump over an ostensibly similar matter.
'It's going to be dirty': Republicans gear up for attack on Hunter Biden
Read more
Another special counsel is already examining the ex-president's retention of top secret papers at Mar-a-Lago, his Florida estate and club. Although the situations are very different, the nuances and subtleties are likely to be lost in the court of public opinion.
"This may be pure sloppiness on Biden's part or the Biden team's part but it doesn't matter," said Larry Sabato, director of the Center for Politics at the University of Virginia. "In the public mind, now they will say, 'Well, a pox on both your houses. You're both guilty. Shame on you both.' It's over."
The issue could become a continuing political headache for Biden, Sabato added. "It's just a real distraction. It was totally unnecessary. Every White House makes mistakes and this is a big one they made."
Despite superficial similarities, the two cases are like chalk and cheese. In January last year the National Archives retrieved 15 boxes of documents from Trump's home, telling justice department officials they contained "a lot" of classified material.
In August, after prolonged resistance from Trump's associates to requests and even a justice department subpoena, FBI agents took about 33 boxes and containers of 11,000 documents from Mar-a-Lago, including roughly 100 with classification markings found in a storage room and an office. The FBI warrant showed it was investigating crimes including the wilful retention of national defence information and efforts to obstruct a federal investigation.
The Biden papers are far less voluminous. First it emerged that a "small number" with classified markings had been found in November in a locked closet at the Penn Biden Center thinktank in Washington.
Speaking to reporters on Tuesday in Mexico City, the president claimed that he was surprised when he was informed about them. His lawyers "did what they should have done" when they immediately alerted the National Archives, he said. "I don't know what's in the documents."
https://12ft.io/proxy?q=https%3A%2F%2Fwww.theguardian.com%2Fus-news%2F2023%2Fjan%2F14%2Fbiden-documents-discovery-donald-trump-winner