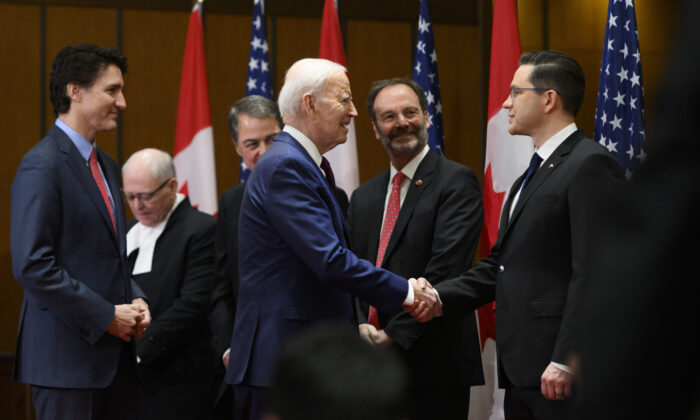 Canada's leader of the Official Opposition Pierre Poilievre brought up the issue of lifting vaccine requirements for Canadians visiting the United States in a brief meeting with U.S. President Joe Biden on March 24, according to a Conservative Party statement.
Poilievre also raised the issue of foreign election interference in Canadian elections, and committed to supporting common national defence interests, and to invest in and modernize the North American Aerospace Defence Command (NORAD).
Poilievre also expressed his desire to end softwood lumber tariffs that affect both the Canadian and American economies, and exempt Canada from protectionist "Buy America" rules, the statement said.
Biden and Prime Minister Justin Trudeau issued a joint statement with commitments to drive progress on shared priorities such as growing the middle class, making life more affordable for people, and creating good jobs through clean energy and economic integration.
Biden said in his message to Parliament that he's never felt more optimistic in his life about the inflection point Canada and the United States are at. His speech was warmly received.
The two leaders are also aiming to take action on the climate to protect the environment. They spoke about defending North America, and advancing peace and security around the world.
To work on making life more affordable and creating good, middle-class jobs, the two leaders agreed to continue discussions to carve-in Canadian goods into Buy America requirements.
Canada and the U.S. share the longest land border in the world, which is close to 9,000 km in length.
The two countries also share one of the world's largest trading relationships, with over $1 trillion in bilateral trade in goods and services in 2021, making Canada the largest U.S. trading partner in goods and services.
https://www.theepochtimes.com/poilievre-meets-biden-raises-vaccine-requirement-issue-for-canadians-visiting-us_5148567.html