Oil prices soar after Saudi Arabia leads coordinated OPEC+ cuts totaling more than 1 million barrels a day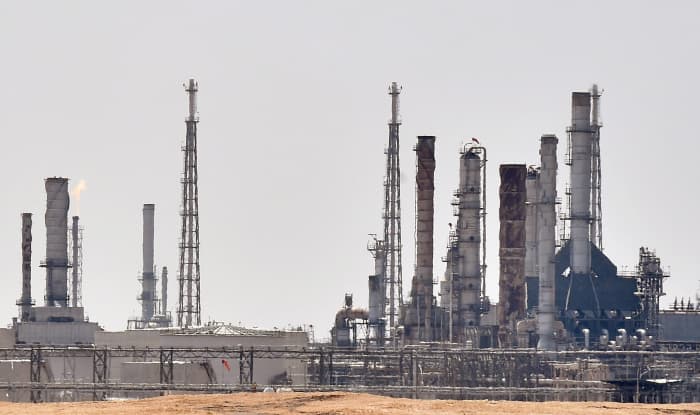 Oil prices spiked late Sunday, after Saudi Arabia led a surprise oil production cut across several OPEC+ nations that will remove more than 1 million barrels of oil a day from May.
In an announcement on Sunday, Saudi Arabia's Ministry of Energy stated that the kingdom will implement a voluntary cut of 500,000 barrels a day from May until the end of 2023, in conjunction with other countries.
It said that the "voluntary cut is in addition to the reduction in production" agreed at the OPEC meeting in October and "is a precautionary measure aimed at supporting the stability of the oil market." OPEC+ agreed in October to cut production by two million barrels a day from November, a move that angered the Biden administration.
Russia's deputy prime minister, Alexander Novak, said his country would extend a March production cut of 500,000 barrels a day through the end of the year. OPEC+ is made up of members of the Organization of the Petroleum Exporting Countries and its allies, including Russia.
News of the production cuts sent prices soaring late Sunday. Front-month West Texas Intermediate crude for May delivery CL.1, 5.34% topped $80 a barrel while Brent crude BRN00, 5.27%, the global benchmark, surpassed $85 a barrel.
The cuts come after a first quarter that saw a sharp decline in crude prices. Oil bulls were disappointed that China's lifting of strict COVID curbs didn't provide stronger support to prices, while aggressive tightening by central banks and fears that banking woes in the U.S. and Europe could turn into a full-fledged crisis stoked recession fears.
https://www.marketwatch.com/story/oil-market-braces-for-volatile-open-after-saudi-arabia-leads-coordinated-opec-cuts-totaling-more-than-1-million-barrels-a-day-f0609f01