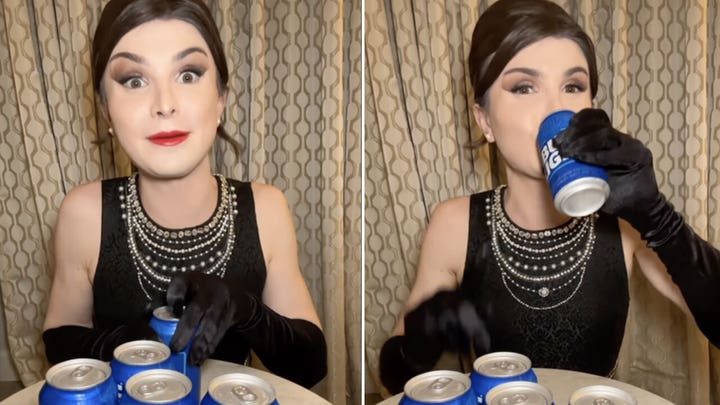 Less than a week after biological male and trans woman Dylan Mulvaney generated controversy for becoming a paid partner for Bud Light, she now has a paid partnership with Nike that has her modeling its sports bras on social media.
Mulvaney — who just had her face put on honorary cans of Bud Light by beer maker Anheuser-Busch — shared several Instagram posts that doubled as ads for Nike's latest female sportswear on Wednesday.
In the first of two ads, Mulvaney could be seen in various poses wearing Nike's Zenvy athletic leggings and Alate bra, the latest addition to the sportwear company's female athletic line.
Captioning the photos, the trans woman wrote, "Home for a moment and leaning into cozy workout wear like with @nikewomen's newest Zenvy leggings and Alate bra! They're so comfortable and buttery soft, perfect for workouts and everyday wear! #feelyourall #teamnike #nikepartner."
Under her username, the post indicated that it was a "Paid partnership" with the sports brand.
In addition to the post on her page, Mulvaney's Instagram story featured other ads for the sports bra and leggings, one of which was a photo. The ad tagged Nike and featured links to wear users could buy the sports bra.
She wrote her own message on the story post, stating, "Alert the media – I'm entering my workout era."
Another ad on her story featured Mulvaney stretching and dancing around in her outfit as well as a link to where customers could buy the Nike leggings. On that post she wrote, "Home from day 365 and ready to take on the world," a reference to her social media documented gender transition project, tilted "365 Days of Girlhood."
https://www.foxnews.com/media/trans-woman-new-bud-light-partner-dylan-mulvaney-paid-nike-model-sports-bras