Obama suggests 'digital fingerprints' to counter misinformation 'so we know what's true and what's not true'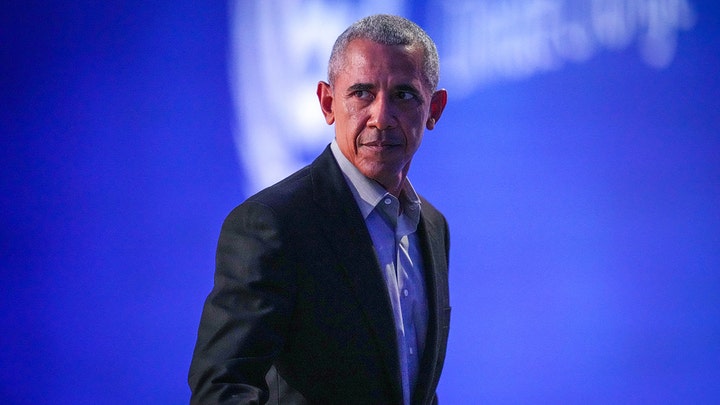 Former President Barack Obama suggested in a new interview the development of "digital fingerprints" to combat misinformation and distinguish between true and misleading news for consumers.
Obama sat down with his former White House senior adviser David Axelrod for a conversation on the latter's podcast, "The Axe Files," on CNN Audio. During the interview, Axelrod noted he's seen "misinformation, disinformation, [and] deepfakes" targeting Obama.
The former president added that the deepfakes — digitally manipulated images, audio or video that appear legitimate — started with a version of him dancing, "saying dirty limericks" and similar kinds of activity.
He then suggested "digital fingerprints" to discern truth from misinformation.
Last year, Obama announced that his foundation would be launching a new initiative to combat misinformation. Days later, Obama angered conservatives with a speech at Stanford University warning of the dangers of "disinformation."
During the speech, Obama said, "All we see is a constant feed of content where useful factual information and happy diversions, and cat videos flow alongside lies, conspiracy theories, junk science, quackery, White supremacist, racist tracts, misogynist screeds."
Critics were quick to point out that Obama promoted the debunked narrative that former President Donald Trump colluded with Russia to win the 2016 election and that Obama infamously won Politifact's "Lie of the Year" in 2013 by telling Americans, "If you like your health care plan, you can keep it," referring to the Affordable Care Act.
More recently, the Biden administration came under fire for trying to start the now-defunct Disinformation Governance Board under the Department of Homeland Security. Many Republicans argued such an initiative would act as a Ministry of Truth in a dystopian society by suppressing dissent under the guise of stopping misinformation.
https://www.foxnews.com/politics/obama-suggests-digital-fingerprints-counter-misinformation-we-know-whats-true-not-true