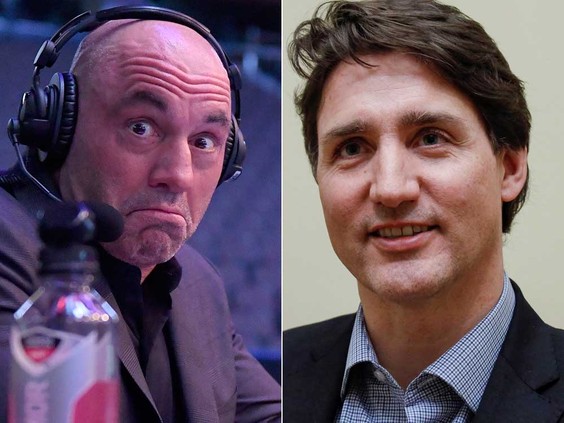 No matter how bad things get in America, Joe Rogan will never consider moving to Canada after declaring the country is "falling apart."
Rogan made the proclamation during a recent episode of The Joe Rogan Experience podcast when music star Post Malone asked him if he'd ever consider moving to another country.
"I would have said Canada, up until recently," Rogan replied. "Canada's f—ing falling apart. All the s— they did during COVID was just the total wrong direction. The trucker convoy, when they froze people's bank assets … they froze people's bank accounts that donated money to the convoy. That's crazy … a peaceful protest, which everybody is supposed to be all about, these people were protesting COVID vaccine mandates and the lockdowns and they f—ing went after the people that donated, which is crazy … They shut their bank accounts down."
Rogan said the Prime Minister Justin Trudeau's response to the so-called "Freedom Convoy" frightened him as he was able to see how far a government could go to control its citizens.
During an interview with Concordia University professor Gad Saad last year, Rogan admitted his once favourable opinion of Trudeau shifted following his response to the nearly month-long protest that crippled downtown Ottawa. As protestors descended on the city on Jan. 22 to protest against COVID-19 vaccine mandates, big rigs blocked off major streets and drew thousands of supporters, both in real life and virtually.
Rogan praised Canada's universal health care, education system and low crime in comparison to the U.S., but said Trudeau's harsh response "freaked me out."
"People were friendlier … But then when you have a creepy f—ing dictator for a prime minister, it freaked me out," he said.
https://torontosun.com/entertainment/celebrity/joe-rogan-declares-canadas-falling-apart-and-takes-on-barbie-haters