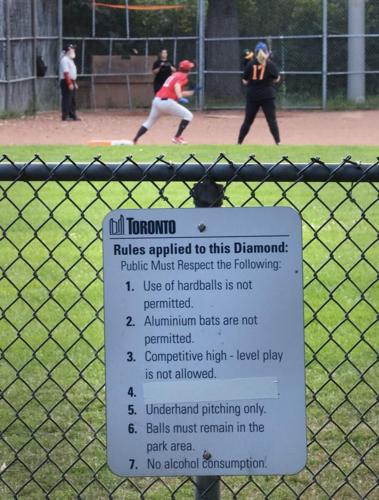 The city is backtracking on a rule banning home runs at a public softball diamond in the downtown west end, after some players cried foul over the restriction.
For four years signs posted at the MacGregor Playground near Lansdowne Avenue and College Street have carried the unusual message: "Home runs are not allowed."
The city's parks department says it issued the decree against dingers in order to protect the Enigma on the Park condos, a nine-storey building just over MacGregor's left field.
The condo was completed in 2019 and experienced "ongoing issues" involving balls hitting the building and nearly striking residents, according to Anna Morrell, an adviser for Toronto parks, forestry and recreation.
The city has imposed other rules intended to make it harder to hit balls out of the park. In addition to the mandate against moon-shots, players are also prohibited from using aluminum bats, overhand pitching or hard balls.
"Competitive high-level play is not allowed," read the signs, which were put up in 2019 but garnered renewed attention this week after pictures of them were posted to social media.
The city is apparently listening to the criticism. On Tuesday, after the Star submitted questions about the issue, staff taped over the no-homer run clause on the signs in the park.
The leagues say they briefly lost their permits for the field after the building went up, but were allowed back on the condition they follow the new rules. The city started implementing additional measures around the same time, including installing netting in left field, increasing the height of the ballpark fence, adding tree cover, and limiting use of the diamond to softball and youth baseball teams.
https://www.thestar.com/news/gta/toronto-home-run-ban-strikes-out-city-admits-it-dropped-the-ball-with-dinger-decree/article_6d753cfa-aa57-5479-bd89-b4c418c1a533.html